Sometimes billed as "Opal" when modeling, Irene Fah is a very recognizable face to many surfers. She has been featured on a number of other major Asian sites. When she first appeared on the Net a few years back, she became an instant hit with surfers.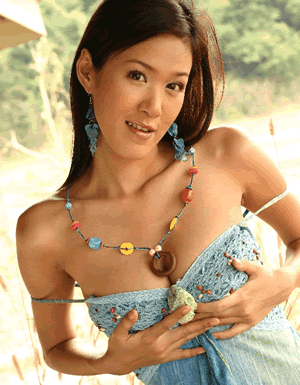 ThaiCuties and ALOTI (Da Ole Guy) recently had the pleasure of having a short chat with her. We quickly learned this little lady has quite a sense of humor. At times, her comments made us do double takes. Irene enjoyed teasing and even giving us an occasional red face.
During and after a video shoot we popped questions at her. The video featured her outdoors, showering, as one of our crew used a garden hose to wet her down. Irene was cute as she humorously complained the water was cold. In the vid you can hear her express, "Now, now", meaning "cold" in Thai.
We asked her the standard questions everyone does, plus a few others that just popped into our heads as she did the shower scenes and afterward. Irene is an easy girl to talk to, and her responses tend to be very much to the point. Below are a few parts of our chat. Most of this is translated verbatim from Thai.
TC: What's your favorite place in Thailand?
Irene: My home.

TC: What's your favorite food?
Irene: Spicy chicken cooking with basil and a well done fried egg.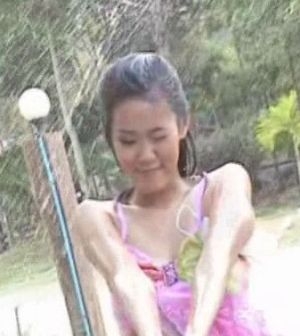 Irene shivered and squealed, complaining the water was cold, as our set guy started hosing her down.
TC: What hobbies or interests do you have?
Irene: Watch movie, listen to radio, reading comedy pocket book. I like nonsense story.

TC: Which country would you most like to visit?
Irene: Italy, Venice.

TC: What's your favorite color?
Irene: Pink, black, white, light blue.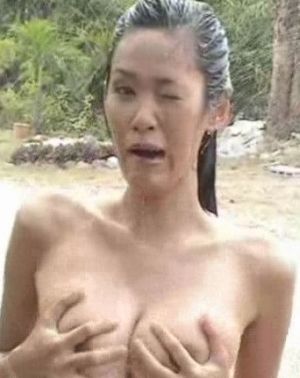 Off came her dress, and she got hosed more. Irene shivered and made a face. By now, not only were her nipples hard, but so were a number of dicks among the crew!
We finished the outside shower shoot and Irene raced for the cabana to dry off. She looked cuter than hell running naked off the set. We followed and caught up to her, inside & warming up. After a bit of joking by her about desire to beat up the guy with the hose we settled down for more chat.
TC: What clothes do you most like to wear?
Irene: Jeans with small T-shirt.

TC: Which part of your body does you like the most?
Irene: My canine tooth.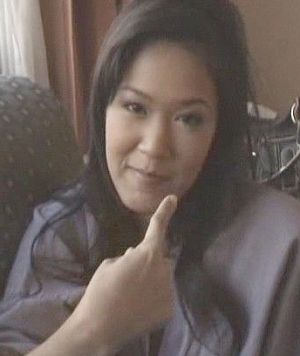 With a serious stare and straight face, Irene gestured towards her mouth.
TC: What are your turn-ons?
Irene: A handsome white thin Chinese looking guy caresses my head. And I really like the guy voice while he has his orgasm, that's really, drive me to the top of my orgasm.

TC: What are your favorite sex positions?
Irene: We lay down on the bed, I lie on one side he's beside me and use his hand to lift my leg up and slide his stuff in from behind.
Irene told us she enjoys hearing a guy when he cums. We know many of the crew would be glad to let her hear them making those noises. Here is where she turns the tables on us. Shunga blushed and laughed after he asked this next question.
TC: Do you have sexual fantasy?
Irene: (Giggling) How about have something with the dog? Is that sound funny? And I like to squeeze the guy's butt.
Her comment totally disarmed us. After we stopped laughing, we got back to talking. Irene seemed to get great pleasure seeing a bunch of guys flinch and get wide-eyed. This lady loves to tease and shock.
TC: How did you come to choose modeling?
Irene: I didn't choose but he chooses me (pointing at her agent). We just met at the mall, I think because of my big breast attractive him. He gave me his name card and it's happen.

TC: Has being a model been a goal for you?
Irene: Yes, but not this kind of model... adult. I want to be a real catwalk model.

TC: Tell us about the first time you posed. Were you nervous? Irene looked down and laughed, considering her answer, as she toyed with her hair.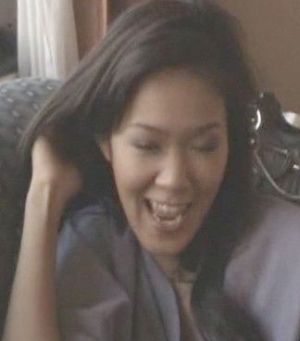 Irene: Only thing I nervous, is my pussy look black on film?

TC: Would you like to see yourself in a top magazine as Playboy or Maxim someday, or even maybe pursue an acting career?
Irene: Yes.

TC: Let's learn a little about Irene now. When you look in the mirror, what do you see?
Irene: My face.
TC: When you were younger, were you a "wild child" or "pretty quiet"? Many of the models I have spoken to were very shy growing up.
Irene: I'm a pretty quiet type.

TC: What's your favorite breakfast or foods?
Irene: Soy milk, Japanese food.

TC: What is your favorite time of the day and why?
Irene: Night, coz I'm sleeping at the daytime. It's my life begin when the sun set.

TC: Music movies are big favorite, who are your favorite artists or stars?
Irene: Rain (Japanese male singer)

TC: Do you have a hero or role model that inspires you?
Irene: Gecel (world famous model)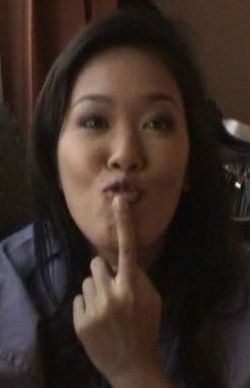 We asked Irene if she had a special guy in her life. She giggled and just put her finger to her lips. Maybe there's a chance for a lucky person after all.
TC: In the long term, what goal do you aspire to reach in your life?
Irene: Get married with a decent guy and living with him, I'm not working, just being a house wife.

TC: Anything special you look for in a man?
Irene: Tall, clean and have a nice tooth.
Okay guys, brush your teeth, or at least be sure to put them in your mouth. Remember, Irene likes canine teeth. Now, that can get the imagination going...
TC: What is the funniest and most embarrassing thing that ever happened to you?
Irene: The funniest is I kiss some Thai famous star by accident and I realize that he's not a cute one and he's black. And the embarrassing thing is I get in the wrong car.
Note here, Irene did not mean this as it sounds. Most Thais try to stay light skinned. Getting to know her we found she is very open minded and could care less about color, she just has her romantic tastes. If you have been in Thailand, you have to know the Thais don't like getting dark from the sun.
TC: How about this? What was the nicest thing that ever happened to you?
Irene: I earn my saving money in my bank account, at my first 10,000 Baht (265.81 USD).

TC: Do you have anything you would like to add?
Irene: Just keep on loving me.
There is no doubt in our minds, we will never stop loving this gutsy and funny girl! Normally we have to lead an interview and dig to get a model to react. This was not so with Irene, she took control and actually tried to interview us! Why she chose "Opal" for a stage name is apparent. It is a fiery stone from Thailand that captivates admirers as she does.
Later readers, Shunga and I need a cold shower right now!